*Some of the links in this post are affiliate links where Tortoise Digital will earn money if you click on them and go onto make a purchase.*
Do ahrefs offer a free trial account? Sort of. If you want to gain full access to their platform on a trial basis you need to pay $7 for 7 days access (we'd recommend doing this – ahrefs is a great tool set you should consider getting!). But if you want to try their tools for no cost at all, you're also in luck as they do offer free use of most of their tools with some basic functionality!
What are the free ahrefs features?
If you want to access ahrefs free features, you can do so by heading over to their homepage and scrolling down to the footer where they label and link to them:

As you can see, apart from three of them (SEO analyzer, Keyword rank checker, and Keyword difficulty) all of ahrefs' features are available to try for free, and below we take a look at these.
ahrefs free backlink checker
Although ahrefs has become a very well-rounded SEO toolset over the years, offering a host of different features, their main product feature has been their backlink tool. It offers a huge database of link data and displays it in a very informative, user-friendly way. You get a glimpse of the backlink tool's functionality for free, although it's really quite limited. For a start, you only have the 'Exact URL' and 'Subdomains' options:
Once you run the tool with your chosen URL, you're presented with the following data:
It gives you the main metrics (Domain Rating, Backlinks, Referring Domains), but access to the more granular data (e.g the precise links and anchors) is fairly limited, meaning the free version of the tool isn't useful for more in-depth backlink analysis. (Note: in the footer they also link to a 'Website Authority Checker' – this just provides the backlink checker data with a different name/design.)
ahrefs free broken link checker
Ahrefs also provide limited functionality of their broken link checker for free: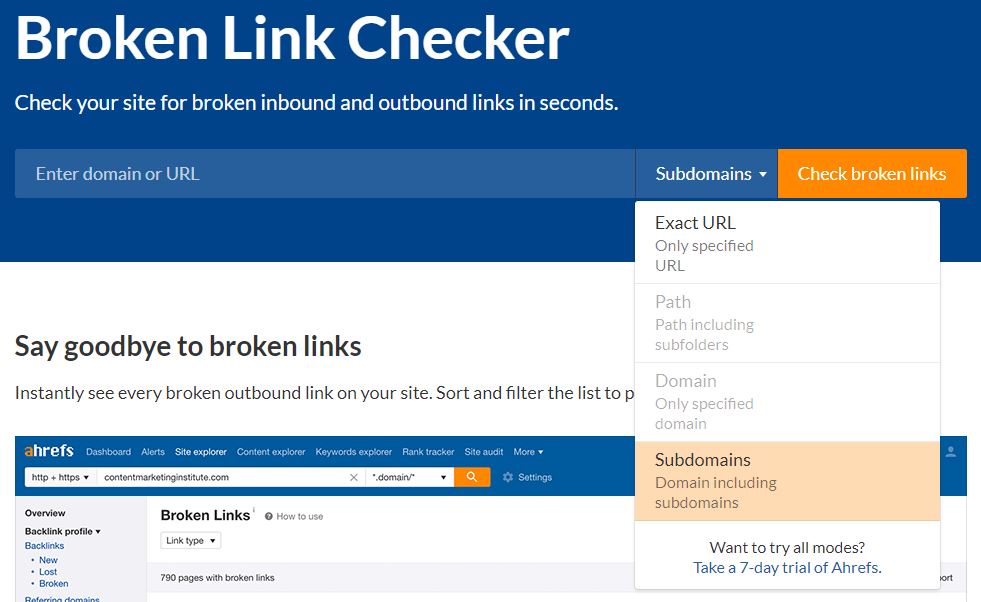 Like the backlink checker, you don't get much in-depth data meaning you won't be able to use this for a full audit of your broken links, but it's fine for a quick check of top-level metrics:
ahrefs free keyword explorer
Along with their link tools, ahrefs also provide a glimpse into their keyword explorer tool (or 'keyword generator' as they also call it) for free. Although there are separate links to the Keyword generator, YouTube keyword tool, Amazon keyword tool, and Bing keyword tool in the footer, they all take you to ultimately the same tool where you can switch between the different search engines depending on what data you want. There's also a drop down to change the country too:

The data you get here is pretty good considering it's completely free. You get a decent selection of keyword ideas (100), and get the keyword difficulty score along with the search volume:
ahrefs free SERP checker
Lastly, you can try out the SERP checker for free:

This tool gives you key metrics (e.g. Domain Rating) about the top ranking sites for a given keyword, although as you can see below the data is really quite restricted with the free tool: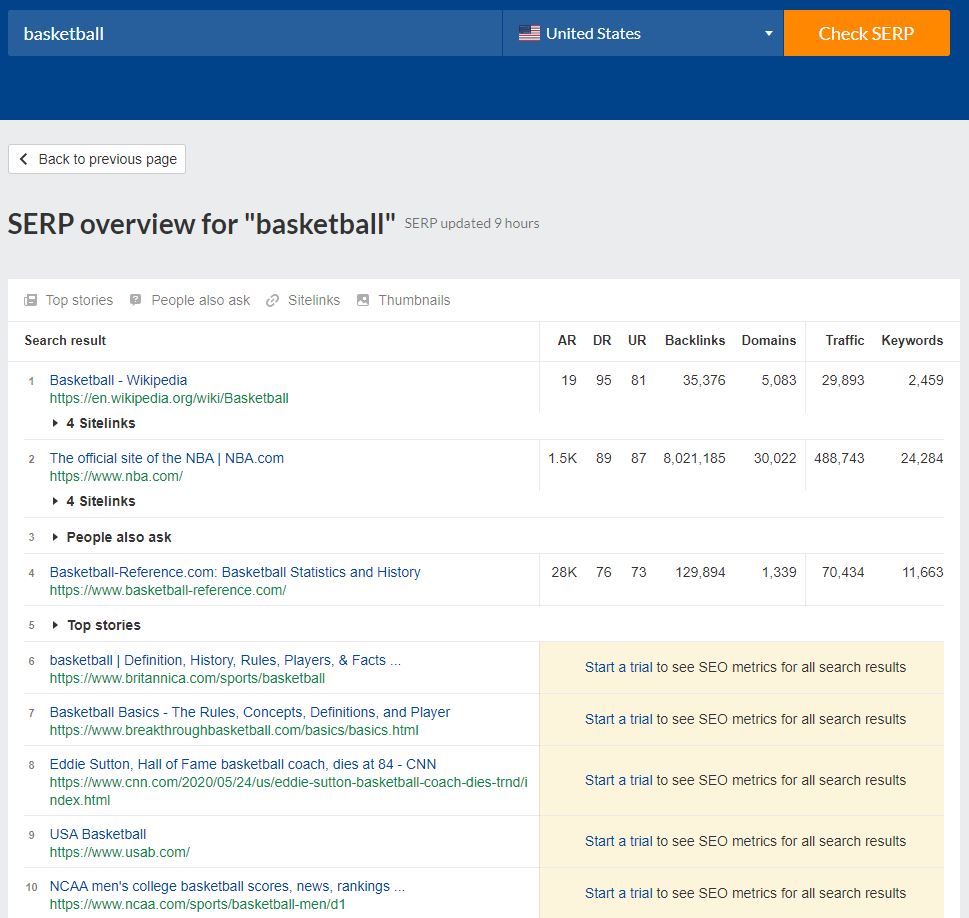 Summing up
In conclusion, the fact that you can get some access to ahrefs' tool set for free is pretty cool, although as we've shown here you don't get a lot, and if you really want to try ahrefs out we'd recommend paying $7 for the 7-day trial. Alternatively, if you want a free trial of SEO/digital marketing tools without any limitations, check out SEMRush that offers a completely free 7-day trial.
*Some of the links in this post are affiliate links where Tortoise Digital will earn money if you click on them and go onto make a purchase.*